Insect Brains

The insectan nervous system evolved from the segmented system of annelid worms, such as the earthworm. Each of the insect's segments has its own nerve center, called a ganglion, which is connected by a pair of nerves to the ganglia of the adjacent segments. The insect's head consists of a set of fused segments; if you look closely at the head capsule of a grasshopper you can see some of the sutures between the segments. Inside the head, the segmental ganglia have fused to form a brain. The major parts of an insect's brain are the:
optic lobes, which provide a link between the receptor surfaces of the eyes and the brain. The optic lobes perform the first steps in interpreting visual information for the insect.
ocelli (singular = ocellus), accessory eyes which are important in perceiving the intensity of illumination. Many insects have three, while some have only two, or even none.
the antennal lobes, the mushroom bodies. The antennal lobes receive input from millions of olfactory receptors and reduce it to manageable taste and smell information.
mushroom bodies. If an insect "thinks" this is where it happens. These are the "higher" centers in the insect brain, where learning, memory, and integration occur.
neurosecretory cells. Peptide hormones produced by the neuroscretory cells regulate endocrine and homeostatic functions in insects. These cells are analogous to the hypothalamus of the vertebrate brain.
corpora cardiaca and corpora allata. Analogous to the pituitary in vertebrates, these organs secrete hormones into the circulation. The corpora allata produce juvenile hormone, which plays a critical role in the regulation of behavior in many insects.
suboesophageal ganglion. The input for this structure comes from the insect's mouthparts; this ganglion coordinates the action of the mouthparts when the insect feeds.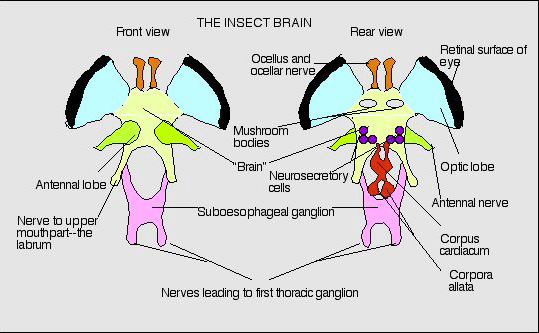 page 2-*
copyright ©2002 Michael D. Breed, all rights reserved